15. Juni 2016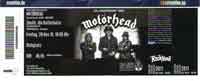 Lemmy ist tot, Motörhead leider Geschichte und trotzdem kommt eine neue CD mit BluRay heraus.
Aufgenommen wurde beides am 20. und 21. November 2015 im Zenith in München. Für den 20.11. hatte ich sogar eine Konzertkarte, musste sie aber aus gesundheitlichen Gründen zwei Tage vor dem Konzert wieder verkaufen. Eine nette Studentin hat sie schließlich als Geburtstagsgeschenk für ihren Vater gekauft.
Schade, ich hätte gerne die letzte Chance genutzt um Motörhead noch einmal live zu erleben. Aus diesem Grund habe ich mir auch die CD mit BluRay mit den Aufnahmen aus dem Zenith gekauft.
Das Bild ist sehr gut. Der Ton überraschender Weise meistens auch. Wer schon mal im Zenith war, weiß, dass die Akustik dort meistens nicht so berauschend ist. Ich habe Motörhead zweimal und Judas Priest einmal dort gesehen und war jedesmal von dem schlechten Sound enttäuscht. Was allerdings richtig nervt, sind die permanenten Rückkopplungen bei den Aufnahmen. Wer auch immer das im Zenith verbockt hat, sollte den Job wechseln.
Zum Konzert selber kann man eigentlich nur sagen, die Liedauswahl ist top, fast alles richtig gemacht. Die Songs stehen auch auf meiner Lieblingsliste von Motörhead. Einzig und allein "Killed By Death" hätte ich mir noch gewünscht um das Konzert wirklich perfekt zu machen.
Bomber 3:35
Stay Clean 3:20
Metropolis 4:10
When the Sky Comes Looking for You 3:46
Over the Top 2:53
Guitar Solo 1:59
The Chase Is Better Than the Catch 5:09
Lost Woman Blues 4:43
Rock It 3:09
Orgasmatron 5:39
Dr. Rock mit Drum Solo 8:57
Just 'Cos You Got The Power 5:57
No Class 3:13
Ace of Spades 3:50
Whorehouse Blues 4:36
Overkill 8:59
Die Atmosphäre im Zenith wurde gut eingefangen. Immer wieder beeindruckend ist der Bomber, der zum gleichnamigen Lied über die Bühne "fliegt". Zum ersten Mal habe ich das in Wacken gesehen.
Lemmy sieht man hingegen deutlich an, wie krank er ist, auch wenn er es damals wohl nicht gewusst hatte. Er sieht ziemlich fertig aus, total abgemagert und man hat Probleme ihn zu verstehen.
Lemmy hat sich auf der Bühne ja noch nie ausgelassen bewegt, aber in dieser Show sieht es so aus, als ob er angewachsen wäre. Immer wieder habe ich den Eindruck, dass zwischen den Liedern absichtlich kleinere Pausen zur Erhohlung eingeschoben werden. Die Pause bis zur Zugabe kommt mir sehr lange vor und nach dem Whorehouse Blues dauert es noch mal eine ganze Weile, bis mit Overkill der krönende Abschluss des Konzerts gespielt wird. Kann aber auch sein, dass ich mir das mit dem heutigen Wissen über Lemmys Gesundheitszustand nur einbilde.
Musste man so etwas aufnehmen und veröffentlichen? Die Band hatte 40 Jähriges Jubiläum und das sollte wohl ein Danke an die Fans werden. Ich glaube, wenn Lemmy es nicht gewollt hätte, hätte ihn niemand zu dem Konzert und zu den Aufnahmen zwingen können. Deswegen lautet meine Antwort, ja, man musste. Und ich bedanke mich für eines der letzten Konzerte von Motörhead und werde mir die Show das eine oder andere Mal mit nem Motörhead Whisky schmecken lassen.
Kategorie CD Kritiken, Dies und das, DVD Kritiken, Testberichte